Posted By Otter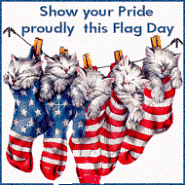 Good morning and Happy Flag Day. The sun happens to be shining at the moment, amazing. I'm not sure if that will last but it's nice now. It is already 74 degrees so it's going to be a warm day if nothing else.
Bob and I headed out to the kennel to feed, get the buckets done, pressure wash, mop and get the dogs out. It is much easier to do that when Bob is around. With that all done, we even set up for the dogs dinner meal.
Our power went out last night when I was painting. I plan on working on that today and try and finish these side panels(for a bike we are re-doing) and helmet up. It is more difficult for me since looking down with my neck is still very challenging.
I am off for now, I need to find something in the freezer to take out for dinner and try to get some housework done before hitting the paint brush. Have a great day all.
No Comments! Be The First!
Leave a Reply